Drillco was formed in 2013 with the goal of becoming the premier builder of Clean-Tech Modular Diamond Core Drilling Systems and Specialized Equipment in North America. Combining over 50 years of drilling experience, drill system design and managing field operations with Clean-Tech and advanced technology, Drillco has successfully conceptualized, designed, modeled, engineered, prototyped and tested the industry's first diamond core Clean-Tech Modular Drilling System!
Drillco's Clean-Tech Modular systems can perform mineral drilling work on the 3 standard applications being surface/skid, underground and helicopter-portable. The innovative hydraulic power pack has interchangeable motor groups (diesel engines and electric motors), allowing mine operators and drilling contractors to use same drilling system on surface or underground. The drills were engineered with specific benefits for Drillers, Mechanics and Owners!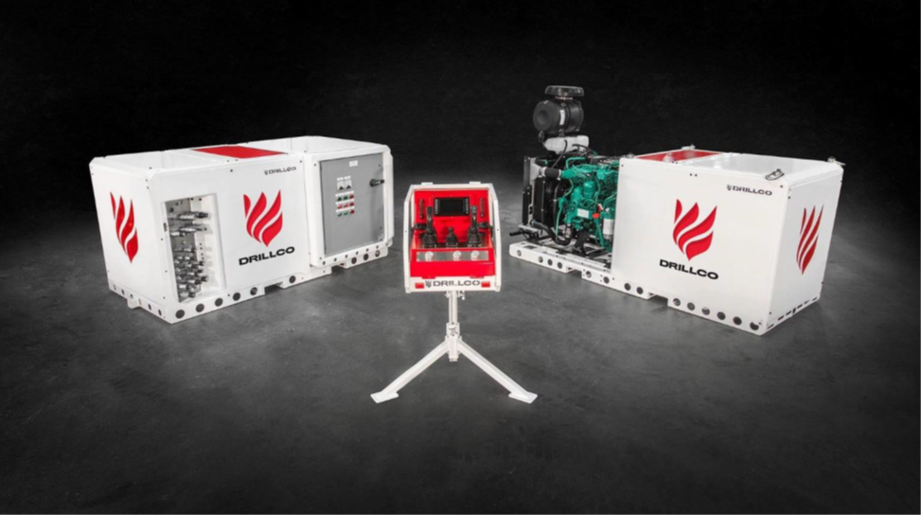 The Modular Drilling System provides users with maximum flexibility, high productivity, financial savings (lower cost of acquisition, operation and maintenance), and the very best in environmental responsibility. The Drillco system boasts energy savings of 30% (reduced diesel fuel or electric power consumption), a 70% reduction in hydraulic fluid, hoses and fittings and an air-cooled system to reduce the stress on natural water sources.
With the assistance of NECO and Fed Nor, Drillco has progressed from a garage-based start-up to a 6-person North Bay company with a world-class drilling system that completes with top tier international drill manufactures. "Thanks for believing in us" stated Sylvain Brisson, President and founder of Drillco. "NECO and Fed Nor support allowed the Drillco team to create a drilling system that is a full generation ahead of our competitors".
Drillco's Clean-Tech drilling systems are currently being used in Sudbury, Ontario in underground configuration, and through-out British Columbia in surface and helicopter-portable configuration. The demonstration units are performing extremely well, and analytical data from the drills are validating their high productivity, effectiveness, drilling range, energy savings and environmental responsibility.
Drillco's first Clean-Tech Multi-Purpose Truck-Mounted drill will be shipped to their industry partner in Mali, West Africa in spring 2019.
With the assistance of several Northern Ontario based suppliers, Drillco is currently building and selling Canadian made Clean-Tech Modular Drilling System from their North Bay facility.